OFFERING CHIROPRACTIC CARE
& MASSAGE THERAPY in KITCHENER & WATERLOO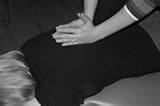 What is Chiropractic?
Chiropractic is a branch of the health sciences which focuses upon the body's neuromusculoskeletal system. A chiropractor is concerned with how your body's skeletal and nervous system is functioning. Since your spine is the key highway for your central nervous system, a chiropractor is trained to use a variety of diagnostic methods to examine and treat your spine and bone structure. MORE >>
Chiropractor
Dr.Deborah Heaman
 
Given the growing COVID-19 concerns and the safety of our patients and community, we are temporarily closed until further notice.  Please watch for updates on our website about when we will reopen. If you have any questions for us, please direct them to drheaman@handsonhealthcare.ca or call us at 519.342.3123 and leave a message.
REGISTERED MASSAGE THERAPIST 
LISA SHERK

209 FREDERICK STREET
SUITE 102
Kitchener, ON N2H 2M7
Ph: 519.342.3123
Fax: 519.342.3124

Chiropractic Email
Massage Email
lisa@handsonhealthcare.ca

Serving Kitchener & Waterloo