OFFERING CHIROPRACTIC CARE
& MASSAGE THERAPY in KITCHENER & WATERLOO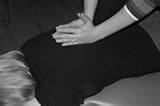 What is Chiropractic?
Chiropractic is a branch of the health sciences that focuses on the body's neuromusculoskeletal system. A chiropractor is concerned with how your body's skeletal and nervous system is functioning. Since your spine is the key highway for your central nervous system, a chiropractor is trained to use a variety of diagnostic methods to examine and treat your spine and bone structure. MORE >>
Chiropractor
Dr.Deborah Heaman
 
 Dr. Deb is open again!
209 FREDERICK STREET
SUITE 102
Kitchener, ON N2H 2M7
Ph: 519.342.3123
Fax: 519.342.3124

Chiropractic Email